Right now the Treasure Haus is accepting donations infrequently due to COVID-19 and the influx of donations now that we are open.
Please call the store at (507) 354-6108 before coming to donate so that we can give you the latest information.
Thank you for your donations.
YOU'D LIKE TO DONATE?
Great!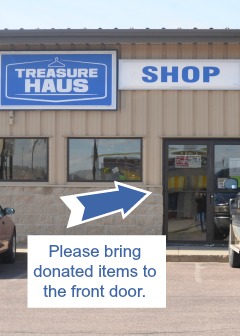 Here are the items we accept:
Unwanted cell phones
In-season clothing
Small electrical appliances and tools
Books and music
Houswares and bedding
Toys and games
Some furniture (please call beforehand to see if we have space)
Due to space and safety concerns, we cannot accept:
Large appliances
Computers or printers
Console stereos
Exercise equipment
Mattresses
Infant/child car seats of all types