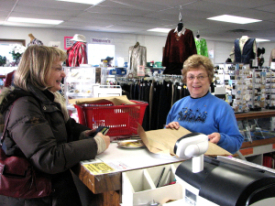 The Treasure Haus is a faith-based, non-profit resale shop in New Ulm, MN. Our merchandise consists of good-to-excellent used clothing, housewares, furniture, toys, books, jewelry, sports equipment, linens and much more. We rely on thoughtful people who donate their usable items to the Treasure Haus, which are sorted, cleaned and priced for resale by our dedicated volunteers and three managers.
OUR MISSION
The mission of the Treasure Haus is to resell good quality, donated items to raise money for Minnesota Valley Lutheran High School (MVL) and other WELS and ELS ministries, missions and projects.
OUR VISION
As brothers and sisters in Christ we shall strive to carry out this mission in a friendly atmosphere with caring and respect for our customers and volunteers and for the good of our community and environment.
WHO BENEFITS
The Treasure Haus was established in 1985 to benefit Minnesota Valley Lutheran High School. As God continued to bless us, our business grew and we are now able to not only support MVL High School, but other WELS and ELS ministries and organizations as well.
To find a list of the ministries we currently support, please visit our store.
OUR MANAGEMENT TEAM
Together, they manage the store sales, the intake and outflow of donated items, as well as the daily operations of the store. They schedule volunteer crews and are always on hand to assist them with all aspects of their duties.
OUR VOLUNTEERS
We are thankful to the many volunteers who make up our diligent crews. More than one hundred men, women and youth support the work of the Treasure Haus. They hail from the communities of:
Arlington
Brighton Township
Courtland
Fairfax
Fairmont
Gibbon
Madelia
Morgan
New Ulm
Nicollet
Norseland
St. James
St. Peter
Sanborn
Sleepy Eye
Winthrop